: +91-9814646185,

: +91-9888922531

:+91-9814646185
e-mail: sikandargraphics@gmail.com
table top paper cutting machine.
Sikandar Graphics
always welcome your quiries, please contact us at email:
sikandargraphics@gmail.com
for your requirements of selected machinery.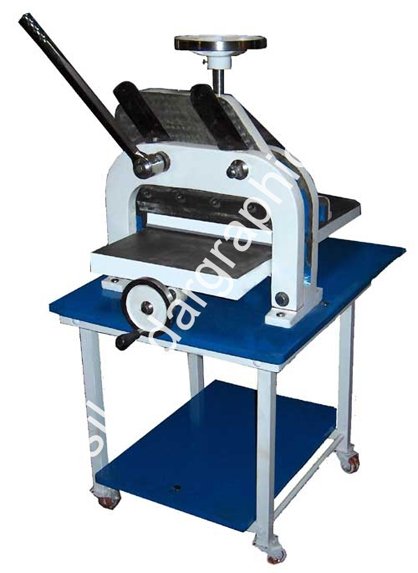 For price, please email us :
sikandargraphics@gmail.com
:+91-9814646185
Table Top Paper cutting machine made for Xerox shops,photocopiers, laser printers jobbers,small desk top printers,small calendars,diaries writing paper pads suppliers.The machine needs no electric power,no more space,easy to handle & hand operated,risk free & low priced.
Small Paper Cutting Machines are designed and manufactured keeping in mind the theory and practical experience of many years of manufacturing.The best available raw material is used for long life and best workmanship.

The machine is best painted to give high class finished looks as well as best performance for long periods forever.
Specification
---
Sizes 15"
Pile Height 1.5".
Machine dimentions are approximately 2'X3'

The Gross weight(For Transporters) for 15" is 200 Kgs approximate including Wood packing One Case.
Related Machines
---