: +91-9814646185,

: +91-9888922531

:+91-9814646185
e-mail: sikandargraphics@gmail.com
Half Cut Sticker Label Cutting Machine.
Sikandar Graphics
always welcome your quiries, please contact us at email:
sikandargraphics@gmail.com
for your requirements of selected machinery.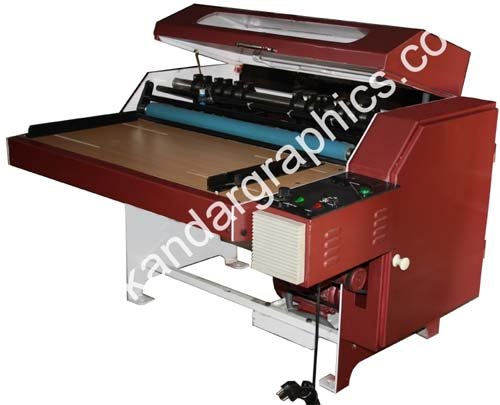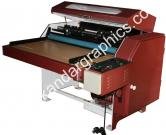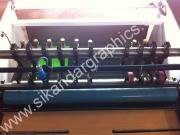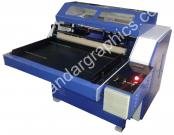 For price, please email us :
sikandargraphics@gmail.com
:+91-9814646185
ELECTRIC POWER : The Machine has variable speed & the machine runs with AC Motor fitted with AC Drive. The electric control is inbuilt in the machine electric penal.The customer simply need the 220 Volts AC supply 50Hz as a standard Domestic supply in India. Simply plug in and run the machine. DC Drive with DC Electric Motor OR AC Drive with AC Motor both type of electric controls are available to run the machine at variable speeds from lowest to the highest.

This machines is most suitable for binders. Small labels printed on adhesive coated sheet needs cutting without cutting the lower attached paper, so a most suitable machine is needed to cut this printed sheet. This machine cuts the upper printed paper first in one direction & then this sheet is cut perpendicular to the first direction without cutting the back paper to a perfect set size of the label. For an even cutting depth the machine is fitted with hardened and grinded steel bar with disc type cutting blade & setting the cutting depth of cutter up to the thickness of the upper printed sheet is very easy & simple by means of a knob & the speed of cutting is controlled electronically by a potentiometer fitted on control panel.
Specification
---
Standard Supply & Others
*
The Size of Machine is 24", 30"
*
1 Perforater , 2 Creaser & 5 Half Cut are standard Supply , It May be interchange to each other as per customer requirements.
*
Half Cut Sticker Label Cutting Machine can be ordered for different numbers of perforating disc, it may be four/six/eight.
*
Eight Holders is standard supply , it may be all Half Cutters or Creaser Or Perforaters.
Minimum gap between two cutters is 3/4" and about 23 holders can be fitted on this machine as an optional requirements which is most useful in Half cutting.While ordering please specify your requirement clearly for what main purpose the machine is needed.The machine can be taylor made to any size and any requirements as mentioned.
Video
---