: +91-9814646185,

: +91-9888922531

:+91-9814646185
e-mail: sikandargraphics@gmail.com
File Master Machine Treadle.
Sikandar Graphics
always welcome your quiries, please contact us at email:
sikandargraphics@gmail.com
for your requirements of selected machinery.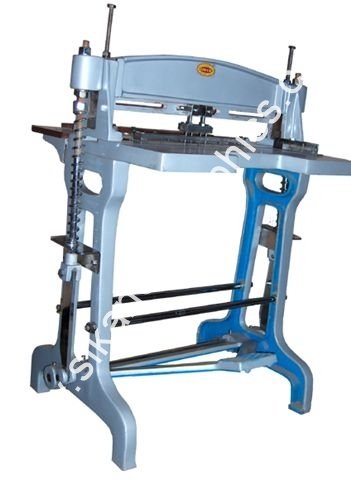 For price, please email us :
sikandargraphics@gmail.com
:+91-9814646185
File Making Machine Treadle Operated :
Any type of office or box file can be manufactured with only one machine.

The machine can be operated for any type of jobs with the dies settings :
Round hole punch for ring.

Round hole die for ring pressing.

Four hole punching for Index lever fitting.

Two hole punching for clip of ring.

Corner tin strip Pressing Die.

Adjustable File Creasing.
Specification
---
MOST SUITABLE MACHINE FOR BINDERS
A most useful and suitable machine for every kind of file manufactures, as Bending,Round Cornering Four Hole Punching,Setting Eyelets,Setting Corner Strip etc. & Loose Leaf Binders as T-Punching,
Oblong Punching,Index Cutting and Spiral Punching. provided with the following dies.
Very useful for small production.
Related Machines
---