: +91-9814646185,

: +91-9888922531

:+91-9814646185
e-mail: sikandargraphics@gmail.com
Box File Making Machine.
Sikandar Graphics
always welcome your quiries, please contact us at email:
sikandargraphics@gmail.com
for your requirements of selected machinery.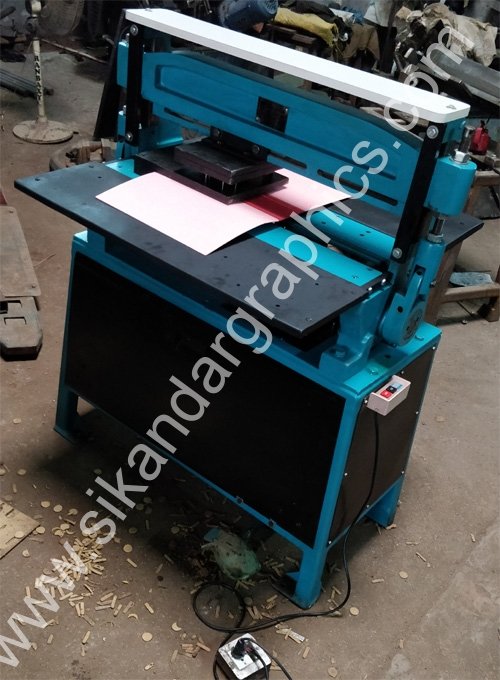 For price, please email us :
sikandargraphics@gmail.com
:+91-9814646185
Box File Making machine or Lever Arch Making Machine.
This single machine can be used for manufacturing of Box File,office files, All Types of Box files can be made on this machine.
How Box File made by this machine ?
Ring ,Rado and machine hole punch

Very First with Special Three in one die all holes of Box Files are punched on file, All these holes are punch in single cycle.
In One Hour 500-700 Files can be punch.

Creasing on Files

Then Two creasing of Box File made on files with file creasing die and adjustable gauge on machine.

Ring Eyelet

Then Ring Eyelet is fitted in Ring hole punched by machine by Ring eyelet fitting die.
In One hour around 500 to 600 files can be fitted with Ring Eyelet.

Rado Eyelet

Then Rado Eyelet is fitted in rado holes punch by machine. Rado eyelets are fitted by rado eyelet die. One eyelets are fitted at a time by die.

Corner edge protector

Then Two bottom side corners of box files are fitted by metal corner edge protectors by metal corner fitting die. One corner is fitted at a time. In one hour 400 to 500 files can be fitted with two corners.

Last Only work remain now is fitting of Lever arch mechanism. This can be fitted by manual fitting by hammer and eyelet closing tool.
With Single machine production capacity is 1000 to 1200 files in 8 Hours.
If Machine quantity is increased to Two or Three Production capacity can be increase.
Our machine is fitted with Mechnical Clutch which makes machine run without any noise. Also it runs trouble free for longer time. And it can be easily maintain locally by any electrician. Machine run on 1 HP single phase electric motor.
Our Main speciality is the quality of out put Files due to quality of Die sets we make for file manufacturing. Our die sets for file making are made carefully with quality of out put keeping in mind. Our die sets work for many years without any trouble.
Specification
---
MOST SUITABLE MACHINE FOR FILE MAKING
Any kind of file making machine,most useful and suitable machine for Arch Lever Files with the following dies, Very useful for small production. Any type of office,Cobra and Arch Lever File can be manufactured with only one machine. The machine is operated with One HP Electric Motor for any type of jobs with the dies settings :
Compact and Heavy Duty Solid Machine
operate 3 jobs in a single stroke,
specially designed die set for all holes like
1" Ring Hole, Rado holes and clip fitting holes of lever arch file in one single stroke of machine
You can also do
Ring Press Embossing.
Rado Press Embossing.
File Creasing
Corner Embossing die.
Two hole and four punching for Office and Cobra Files.
Round Corner Die.
Table Size 24",Gross Wt 500 Kgs, Motor 1HP Single Phase.
Video
---
Related Machines
---